About The Richboro Swimming & Diving Team
FOR OVER 50 YEARS, the Richboro Swim Club has sponsored a team in the Lower Bucks Swimming and Diving League (LBSL). This has provided opportunities for Richboro Swim Club Members, from ages 4 to 18, to develop their swimming and diving skills in a competitive, but nurturing atmosphere. In fact, Richboro was a founding member of the league. The Richboro Swim and Dive Team is a non-profit organization serving the youth of the Bucks County Area.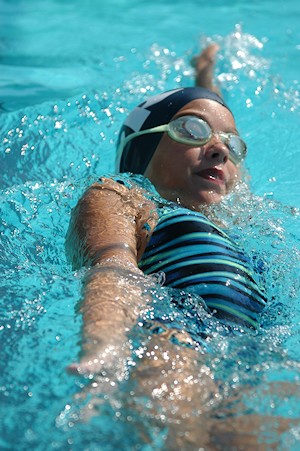 Swimming and diving meets are held separately. Meet schedules will be available in early June.
Each division consists of 8 teams. Each team swims the other teams in its division once for a total of 7 meets.

Richboro Swim Team features:
• All team members will participate in EVERY meet.
• Time Busters will still be awarded.
• Invitationals and Championships will be available to all swimmers.

The Diving Team, a regular recipient of Division Championship & Sportsmanship Trophy, will continue to compete in the Red Division. Team Coaching and individual attention is provided by a staff of salaried coaches. The coaching staff consists of a head coach, four assistant swim coaches, a swimming technique consultant, a diving coach and diving assistant. Swim coaches provide workouts and guidance to team members in developing starts, turns, and swimming techniques for the four basic strokes: breaststroke, backstroke, butterfly, and freestyle. The Diving coaches provide instruction and guidance on developing competitive diving skills.

Richboro has provided many of the varsity swimmers and divers for all area high schools. In fact, the overwhelming majority of high school swimmers and divers begin their careers by competing in a summer swim club program. Many Richboro swimmers have received a full or partial swimming scholarship to a college or university. Every year, we have swimmers and divers who complete the program via their graduation from high school and find that their lives have been enriched with the sportsmanship and friendships which they have experienced.

The Richboro Swim Team Parents Association provides not only vocal support at the meets, but takes an active role in officiating, planning team social events, and selecting team gifts and special recognition awards. It is an excellent opportunity for parents to directly participate in assuring that their children receive maximum benefit from their swimming and diving experiences. These benefits include
good health, an improved sense of self-discipline, and a summer filled with good and wholesome fun.

Note: To be eligible for participation in the Richboro Swim & Dive Teams, swimmers and divers must be Richboro Swim Club Members. See www.Richboroswimclub.com for membership plans.